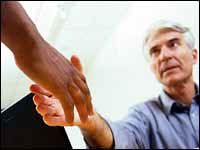 As a locally owned and operated company, we're committed to building long-term relationships with customers and employees alike.
We look for many qualities in the individuals we hire. A strong work ethic, a high level of organizational ability and effective interpersonal skills are a great start. However, there is one attribute in particular we seek: the never-ending passion for delivering great customer service.
If these are qualities you possess, you will find a rewarding career with us. We offer competitive compensation, ongoing training and a dynamic work experience that is both challenging and personally rewarding.
Current Openings:
Sign Production Manager

Are you looking for a position where you can make a big impact in a rapidly growing sign company? We are seeking an experienced sign industry professional to join the sign production team at Creative Edge Signs and Graphics in Rockville, Maryland. Highly competitive salaries /Full benefit package including health, dental and a 401K retirement plan
employment type: full-time.

Responsibilities and Requirements.

Demonstrated track record and a minimum of 2-3 years' in large format digital printing/lamination, cut vinyl production and application, as well as general, assembly and creation of a broad range of both interior and exterior signage including; lobby and office signage, window and wall graphics, vehicle wraps and lettering, retail and trade show displays.

Ideal candidate must be detail-oriented with the ability to work both independently and multi-task in a fast paced team environment with typically 20-30 current projects. Sign Maker must work closely with the sales, graphic design, and installation teams to insure seamless execution of projects.

Prioritize sign requests daily to meet business deadlines and communicate with management regarding project progression. Project management experience highly desirable.

Working knowledge of the sign production (application of vinyl to metal, plastic, wood, paper, windows, walls, floors, brick etc.) and assembly processes including operation of HP latex large format digital printing /ONYX/RIP software, plotters, laminators.

Must possess excellent communication skills and the attitude for providing unparalleled customer service.

Design knowledge/experience in FlexiSIGN or Adobe Illustrator/Adobe Photoshop, absolute requirement.

Interested candidates, please respond to this add with a cover letter detailing you professional objective and interest in this position and a current resume with well documented experience relevant to the job requirement and responsibilities.

Please do not respond if you do not have sign industry specific experience.